The Proposal

We met and dated while we were in college in college at University of Florida. (Go Gators!!

) Anyway, we started contacting each other a few months after we graduated and after a while decided meet up. We decided to go to Disney. We had so much fun that we got together a few more times and decided to begin dating again. That was back in March of 1999.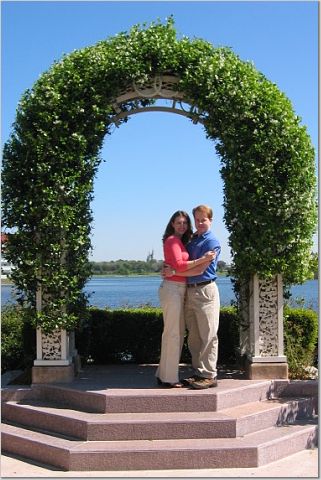 Fast forward from 1999 to 2003. (time flies when you're having fun, doesn't it?)
We'd shopped for my engagement ring so I knew it was on order when we planned our vacation. The week before we left Sean said that the ring wasn't in yet so he would have to go down to pick it up while we were on vacation. So I didn't really expect a proposal until after the following week.
Sean called me that Friday (August 8th) to tell me we'd have to meet in Orlando because he had to get things ready for our friends that were meeting us the next week on vacation. So we met in Orlando after work. When I got up there Sean said he was hungry and wanted to go out of for a nice dinner. He surprised me with reservations for Emeril's at Universal Studio CityWalk. After we were done with dinner, Sean suggested that we watch the Disney fireworks in the lake from his grandparents' boat since we hadn't done that in a while. By this time, it was getting late and we only had 15 minutes though. We rushed home to get the boat of the boathouse and into the middle of the lake.
We got the boat into the middle of the lake just as the fireworks were starting and settled down to watch them together. During the Magic Kingdom's finale, Sean got down on one knee in front of me and proposed. He'd sprinkled rose petals on the floor of the boat to add a romantic touch, but they'd gotten blown around on the drive to the middle of the lake. After I said "yes" (of course), he brought out two dozen red roses, a bottle of champagne, and Disney chocolate-covered strawberries. So we poured the champagne and fed each other the strawberries while we watched the fireworks from the other Disney parks.
Earlier in the year we had talked about different places to hold the wedding. The more we talked about it, the more it just made sense to have it at Disney. We have spent so much time there together. He basically grew up at Disney and our first date after college was there. Besides, doesn't everyone dream of having a fairytale wedding and living happily ever after?